Back to School
More information coming soon! We will have all back-to-school information on open house, registration, first-day packets, transportation, and school supply lists posted here.
Open House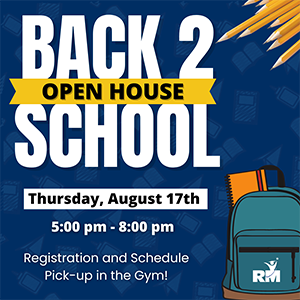 Please join us for our back-to-school open house on Thursday, August 17 from 5:00 to 8:00 p.m. Registration and schedule pick up will take place in the gym.
School Supplies
Rocky Mount Prep will not be providing school supplies for the upcoming school year. Please view the supply list for your scholar's grade, and plan to provide those items for your scholar. There are several community events happening in the Rocky Mount area to assist with school supplies. If you would like additional information or resources on providing school supplies for your scholar, please contact our school social worker, Marsha Winstead, via email.
Community Resources for School Supplies
Please see below for community resources to assist with school supplies.
Transportation
Bus Riders - Transportation updates for bus riders are available below.
Car Riders - This year, all families will need to have a traffic pass. These passes will be issued at open house. They are designed to hang from your rear view mirror.
Elementary families will receive a gold traffic pass.

Secondary families will receive a navy traffic pass.
Families with both elementary and secondary scholars will receive both.
Traffic Pattern for Car Riders
The traffic patterns for morning drop off and afternoon pick up this school year are available below.